They are just children! Not slaves!
So is the theme of the 3rd edition of the International Day of Prayer and Awareness against human trafficking (IDPHT) highlights the sufferings and the hope of trafficked children and adolescents.
The event is celebrated on Feb. 8th., the day when we remember liturgically Saint Bakhita, who in life endured the sufferings of slavery. It is promoted by Talitha Kum (UISG–USG), the International Network of Consecrated Life Against Trafficking of people, in collaboration with:
the Department for Consecrated Life,
the Pontifical Council for Justice and Peace,
the Pontifical Council for Migrants and Itinerant Peoples,
the Vatican Academy of Sciences, Caritas International (CI),
the International Union of Catholic Women's Associations (WUCWO),
the working group against trafficking of the Justice and peace Commission of the International Union of Superiors and of Superiors General (UISG / USG)
According to the last official statistics of the United Nation, one in three victims of trafficking are children. The number of trafficked people who are less than 18 years old is constantly increasing, worldwide. Children and adolescents are trafficked for sexual exploitation, domestic servitude, forced marriage, illegal adoptions, forced labour, organs removal, begging, criminal acts (like child soldiers, drag smuggling) and witchcraft. It is urgent to listen to the cry of these little ones, to everybody, every family and every community, who experience the violence of exploitation and slavery, who is injured and humiliated.
Worldwide there are 168 million children in child labor. More than half of them, 85 million, are in hazardous work (ILO). 20 million child workers are employed in factories that make garments, carpets, toys, matches and hand-rolled cigarettes. Agriculture remains by far the most important sector where child laborers' can be found (98 million, or 59%), but the problems are not negligible in services (54 million) and industry (12 million) – mostly in the informal economy. Most children work in farms that produce consumer products such as cocoa, coffee, cotton, rubber and other crops (ILO). Asia and the Pacific still have the largest numbers (almost 78 million or 9.3% of child population), but Sub-Saharan Africa continues to be the region with the highest incidence of child labor (59 million, over 21% of child population) (ILO). There are 13 million children in child labor in Latin America and the Caribbean. In the Middle East and North Africa there are 9.2 million (ILO). Every year, 22,000 children die in work-related accidents. 9% are in industry, including mining and quarrying, manufacturing and construction (ILO). The number of children involved in armed conflicts has increased to about 300,000 over the past decade. 14 is the average age of a child soldier. 40% of child soldiers are girls (ILO). 2 million children are subjected to prostitution in the global commercial sex trade (UNICEF). Millions more children are likely exploited in prostitution or pornography each year around the world, most of the time lured or forced into these situations through false promises and limited knowledge about the risks (UNICEF). About 1 in 10 girls under the age of 20 have been subjected to forced sexual intercourse or other forced sexual acts at some point of their lives (UNICEF).
For more information and tools, visit http://preghieracontrotratta.org/
Saint Josephine Bakhita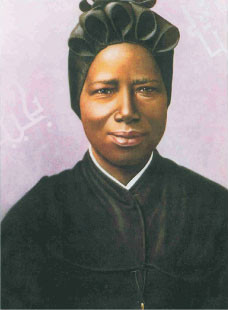 Born c. 1869 in Olgossa, Darfur, Sudan
Died 8 February 1947, Italy
Year of beatification 1992 (17 May)
Year of canonisation 2000 (1 October)
Feast Day 8 February
Saint Josephine Bakhita, also known as 'Mother Moretta' (our Black Mother) bore 144 physical scars throughout her life which were received after she was kidnapped at the age of nine and sold into slavery.
Such was the trauma experienced that she forgot her birth name and her kidnappers gave her the name Bakhita meaning 'fortunate'. Flogging and maltreatment were part of her daily life. She experienced the moral and physical humiliations associated with slavery. It was only in 1882 that her suffering was alleviated after she was bought for the Italian Consul. This event was to transform her life. In this family and, subsequently in a second Italian home, she received from her masters, kindness, respect, peace and joy. Josephine came to discover love in a profound way even though at first she was unable to name its source. A change in her owner's circumstances meant that she was entrusted to the Canossian Sisters of the Institute of the Catechumens in Venice. It was there that Bakhita came to know about God whom, 'she had experienced in her heart without knowing who He was' since she was a child. She was received into the Catholic Church in 1890, joining the sisters and making final profession in 1896. The next fifty years of her life were spent witnessing to God's love through cooking, sewing, embroidery and attending to the door. When she was on door duty, she would gently lay her hands on the heads of the children who attended the nearby school and caress them. Her voice was pleasing to the little ones, comforting to the poor and suffering. She was a source of encouragement. Her constant smile won people's hearts, as did her humility and simplicity. As she grew older she experienced long, painful years of sickness, but she continued to persevere in hope, constantly choosing the good. When visited and asked how she was, she'd respond: 'As the Master desires'. During her last days she relived the painful days of her slavery and more than once begged: 'Please, loosen the chains… they are heavy!'. Surrounded by the sisters, she died on 8 February 1947.
About the event
The IDPHT  was first celebrated on the 8th. February 2015 at the desire of Pope Francis, who in 2014, requested the International Union of Superiors and of Superiors General (UISG–USG) to promote this day. The Secretary of State, responding to requests made by religious, who had been working for years to combat trafficking,  gave approval to organizations that for years have celebrated Anti-Trafficking Day on this date.
In 2015 and 2016 the prepared material, in the different languages, was disseminated through the website created especially for the first celebration. In 2015, on-line participants were invited to get involved by entering their name and country in the appropriate boxes an so light a light against trafficking in their country. Lights becme  visible on the world map as people participated in the day. Worlwide there were 2312 lights in 154 countries.
The first IDPHT was announced internationally at a press conference on February 3. The programme in Rome included : a prayer vigil, Mass and participation with banners at the Angelus  in St. Peter's Square during which Pope Francis spoke of the event in  the following words:
"Dear brothers and sisters, today, 8 February, the liturgical memorial of St. Josephine Bakhita, a Sudanese Sister, who as a child had the traumatic experience of being a victim of trafficking, the International Unions of Superiors General of religious institutes have promoted the Day Prayer and Reflection against trafficking in persons. I encourage all those who are committed to helping men, women and children enslaved, exploited, abused as tools or pleasure and often tortured and mutilated. I hope that those who have responsibilities of government will seriously strive to eliminate the causes of this shameful scourge, a scourge unworthy of a civilized society. Let each of us be committed to being a voice for our brothers and sisters, humiliated and deprived of their dignity. Let us all pray together."
(Pope Francis, Angelus Domini February 8, 2015)
The IDPHT 2016 followed a similar pattern, favoring the local action.